If you'll recall, I am not letting summer go away anytime soon. In fact, I will not be discussing ANYTHING fall related until I deem it appropriate to do so (i.e., never. j/k, who am I kidding? I am a blogger).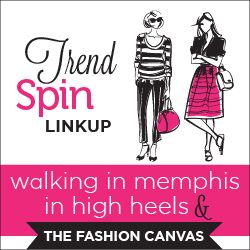 I feel like there's nothing that screams summer more so than a blue and white striped shirt. I really think this look says, "I'm about to throw on my Sperry's and spend the day on my sailboat!"
I've never stepped foot on a sailboat, and my Sperry's are looking a little worse for wear, but I can totally rock this nautical look.
I found this shirt on clearance at the Kate Spade outlet and couldn't resist–it had a bow on it! I wore it a lot during the late spring/early summer, when the temperatures were still cool enough for a long sleeve shirt. It's the perfect shirt to wear to the office–the color and design is perfect for summer, but the longer sleeves keep me from freezing in my office.
As you can see, I'm ready for Martha's Vineyard.

What are your favorite nautical styles?
All Love,