Hello my dearest friends! Have you missed me? I've certainly missed you all. Thank you all for being so patient with me these past few months. With work, grad school, and doctors appointments, I haven't had much time for anything else. Speaking of doctors appointments, I do have potential good news–I may not need surgery! I am starting a new medication next week, and our hope is that it will help with the inflammation in my intestines, enough to indefinitely postpone surgery. I'm still slightly terrified–there are definite risks with taking this medication, and it may not even help at all, so there are still a lot of unknowns in my future. Nevertheless, I'm hopeful that this will work and Matt and I can put this chapter behind us. Despite all the stress and health problems, I've still managed to have an amazing summer. Matt and I have spent lots of time hanging out with the neighbors (and the puppy brigade!), visiting local wineries, and we got to spend a week at the Outer Banks with my family.
You'll hear all about #salvocation in due time, but for now here's a teaser of the five million pictures I took at the beach. I'm linking up with Walking in Memphis for the Tuesday Trend Spin. Today is all about maxi dresses, and you KNOW how much I love a good maxi dress. I have this simple, orange maxi I got at J.Crew Factory last summer, and it is one of the most versatile pieces I own.
My favorite way to wear this dress is in the summer, to show off my beach glow. I wear it with a belt to give it a little bit more shape, and of course I've got to include my sunnies and my hat to protect my delicate skin.
I also like to include Millie in my pictures. She had her first modeling gig recently, you know, which I'm sure she will tell you all about soon in her next guest post.
What's your favorite way to wear a maxi? And thank you again, friends, for your kind words and support. I may not be back to posting five days a week, but I'm here and will slowly be making my way back!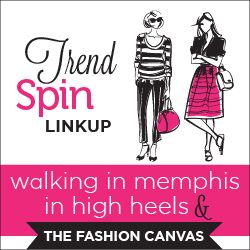 All Love,