Good Morrow, friends! I bet you didn't expect to see me again until Monday! Lucky for you, my conference was cancelled this week, so that means I get to bring you a lovely post to bring you into the weekend, AND I'm linking up with Karly and Sarah for Fan Friday: Super Bowl Edition! (Or, as I like to say, the "Super Match.")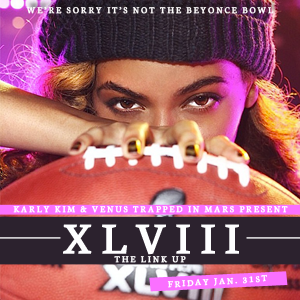 Now before we go any further, let me explain why I refer to almost every sporting event as a "match." Remember in Zoolander, when he has his identity crisis and tries to fit in with Pops and his brothers? Poor little buddy attempts to have male bonding time with his dad at the bar, but ruins it by saying "who won the match?" in reference to a football game.
One time, my friend Elyse made reference to it, and ever since that moment I have always referred to sporting events as "matches," whether that is relevant or not. Matt finds it EXTREMELY adorable, so of course that only encourages my behavior.
Anyway, in honor of this very special Fan Friday, let me tell you a little bit about myself and my history with football.
1. I got into football as a student at Virginia Tech. When you attend a game in Lane Stadium, it's hard not to get excited about the game. You see, football in college involved serious tailgating (free food! free drink!) and then getting thrown up in the air after touchdowns. What's not to love?
2. In college, I also picked up a little bit of knowledge on football terminology. I FINALLY understood why first downs were so important, what "holding" meant, and the responsibilities of the different positions on the field.
3. Although I've always been a Hokie for life, I'm still not quite sure where my loyalties lie in the NFL. I've had a hard time becoming a fan of the Redskins, Matt's team (for obvious reasons), and my family has never really had an NFL team they've rooted for. Lately, it's come down to two contenders: the Ravens and the Vikings. The Ravens because 1. Tyrod Taylor, 2. Edgar Allan Poe, and 3. I look REALLY good in purple. I've considered the Vikings as my team because again, I look so awesome in purple, AND the Vikings are my ancestors. It's a tough choice, and the Seahawks have been creeping in there as well. I'm kind of obsessed with Seattle and desperately want to visit, and not to mention, the colors blue and green really bring out my eyes and that Russell Wilson is a real cutie.
4. As you can see, choosing the right team really comes down to the right fashion choice.
5. I like going to football games because it means I can eat the WORST foods and no one will judge me.
Nom Nom Nom!
6. I am not a fan of the Patriots, and I have a very valid reason–my 9th grade earth science teacher was a huge fan, because his cousin was playing for them (which he so often liked to remind us). He also happened to be an insufferable asshole, and my perception of the Patriots has been poisoned ever since. Not even the super power combination of Tom Brady and Giselle could sway my opinion.
7. As a child, I would get really excited for the Super Bowl because every year, without fail, I was convinced we would be the ones to win the Publishers Clearinghouse Sweepstakes (and I would plan my outfit in hopes of this months ahead of the big game).
There you have it! This is my relationship with football, and it can all be boiled down to two things: food and fashion. What's your football history? Will you be watching the match this weekend? You better believe I will be…Matt's dad is making RIBS!!! NOM NOM NOM.
Have the loveliest of weekends,