Hello my friends! I took a little break from blogging and social media yesterday, and it was actually really nice. I spent almost seven hours driving on I-81 yesterday, and if you have ever been on the interstate, then you know what kind of emotionally-draining experience that can be. That road makes me rage like no other.
Let's talk of happier things! Our trip home to SWVA was wonderful, I just wish we had more time. There are so many things to do in the area, it's impossible to get it all done in one Saturday. On this trip we managed to include cheesy sticks from Bella's, catching up with old friends, biscuits and gravy from Crackerbarrel, and a quick photo shoot where we held our wedding reception almost one year ago.
I also couldn't get enough of the fall foliage this weekend–it was the perfect time to visit because most of the colors had changed and the leaves were still on the trees.
I know we're already a few days into November, but I thought I would go ahead and list some goals I have set for myself. Nicole over at
Treasure Tromp
did this recently, and I think it's a great idea to make manageable goals each month, rather than rely on the grand, lofty goals that were set for the new year.
I'm counting on you, my friends, to keep me accountable.
– Complete NaNoWriMo (National Novel Writing Month)
I heard about this from Taylor, and realized this may be the kick in the rear I so desperately need to get started on my novel. Today, I read this article from Linda Holmes at NPR, and one quote stood out to me:
"It's not that you can really
finish
a good novel in a month; it's that you can
spare a month
."
I know that I am not going to write a publishable novel in 30 days, but by golly, I will get a good head start!
– Start going to spin class twice a week
I joined a gym two weeks ago and I have yet to step foot in it since the day I joined. Granted, I have been a little under the weather since then, but now that my sinuses no longer seem intent on making my life miserable, I need to make the effort to go. Spin class is my absolute favorite, and it's great stress relief–it's a win-win, my favorite type of situation!
– Get a head start on Christmas shopping
This is unbelievably vague, which is the exact opposite of how goals should be written. I just don't know if I can throw out a concrete number right now, so let's keep it as is and we'll all promise to look the other way and not notify the Goal Police.
– Unpack and organize all the furniture we came home with this weekend
Part of the reason Matt and I went to my parent's house was to pick up their piano, and some furniture they got for me that came from my Grandma's house. I'm excited about all this new-to-us stuff we got, but it's quite a bit and going to take some time to get everything exactly where it needs to be.
I wish I had a picture to post of Matt driving that UHaul truck. He looked big time baller.
– Stop playing Candy Crush
Or, at least stop playing it all day, every day, if that makes sense. I will accomplish none of the above if I keep on keepin' on with that infernal game.
That's it for November goals! What are you hoping to tackle this month?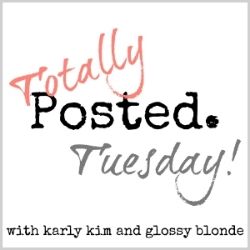 All Love,