Do you ever feel like this?
I have felt like that most of this week. Every cup of coffee I drink only makes me more tired, and I barely have the motivation to play Candy Crush. I blame my allergies, which are a result of the menopausal weather we've had here in Virginia.
So as you can imagine, blogging has been a real challenge this week, especially when I just want to hang out on the couch and watch Netflix. I'm trying my best to soldier on, and that is why you're getting an easy-peasy Wedding Wednesday post this week.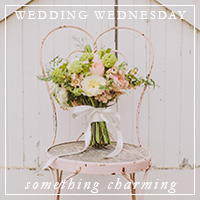 Matt and I really wanted to incorporate a slideshow into our reception, but in the end the technical gods did not look kindly upon us. I wasn't upset when we weren't able to get it to work–after all, we were at least able to share some of our own pictures by our
guest book
display.
However, in hindsight, it would have been great if I hadn't stayed up until 2am the night before the wedding working on the slideshow.
Anyway, I wasn't able to share this slideshow at our wedding, so I am going to share it with you today (because it has taken roughly 9 months for me to figure out how to get this uploaded as a video).
Please enjoy this onslaught of memories from our childhoods, and thanks for putting up with me during my week of "wanting to not do things."
Much Love,
Kate