Wedding favors–can't live with 'em, can't live without 'em!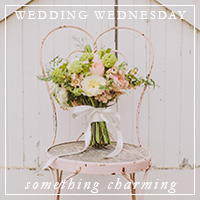 Did that honestly make any sense? Probably not. My personal opinion (so take that as you will) is that wedding favors aren't really a crucial component to a successful wedding. However, I think that it's a nice gesture to send something home with the guests, and we wanted to do it as a way to thank them and have them remember our wedding as THE BEST WEDDING EVER.
Since everybody and their brother has done a candy buffet these days (well, duh, they're simple and aesthetically pleasing), it might be fun to peruse your own ideas, or something that matches your style or theme of your wedding. Martha Stewart Weddings has a gazillion slideshows of ideas for favors, but before you go down that rabbit hole, consider these factors:
1. Will it fit in your budget?
Miniature, personalized champagne bottles may seem like a great idea at every place setting, but mayyyyy not be the best idea for your wallet. Or your future finances.
2. Is it feasible?
Remember in Bridesmaids, when everybody got an adorable puppy as a favor? It happened in the movies for a reason–because movies are not real life.
3. Does it travel well?
Can it be tucked inside a carry-on, or will it be thrown out by security? This may not be that big of an issue if most of your guests are local, but it's something to consider if you've got friends and family flying in from all over the place.
4. Is it easy to make/buy/assemble?
This kind of goes hand-in-hand with #3. If it IS feasible, then what kind of set up is required? Is this a DIY project that could take a few days, or can you just buy everything ready-made and set it up the day of the event? Which brings me to my next point…
5. How will you set up the display?
It's really no big deal how you decide to display them–whether you do it at each place setting, in a basket by the door, or maybe set upon trays held by living statues. The important point to remember is who is going to set it up (who? whom? I never get it right). If you don't have a wedding planner or event coordinator who can ensure everything is set up in its proper place, then assign SOMEONE to do it–friend, bridesmaid, groomsmen, anyone who might have a few spare minutes the day of the wedding. Nobody gets to enjoy a favor that's boxed up in a dark corner somewhere (except you, for the rest of your life).
Favors at every place setting, set up the night before with my ladies, final touches courtesy of my Aunt and the event staff.
That should about do it! Any other brides have tips on choosing favors? For the record, in case you didn't notice in the pictures above, we had hot chocolate (duhhhh, winter wedding!). My MIL, Debbie, was super wonderful and put it all together about a week before–she even made the mix herself! The favors were a huge hit, and I still have one bag full of hot chocolate mix because I'm a hoarder and can't bring myself to break it's pristine-ness (is that a word? didn't think so).
Warmest thanks! Get it?? WINTER WEDDING!!
Much Love!
Kate
p.s. I'll post a DIY on how to make this favor when I get the ingredients for the mix from my MIL!