Remember when I debated the merits of various ideas for exiting our reception? In the end, we chose a combination of two of those ideas: ribbon wands and…wait for it…confetti cannons.
While researching wish lanterns, I found out that the same company also had confetti cannons available for purchase. These cannons were only $10 a pop, so I made an executive decision and purchased six. I love confetti and all, but I don't need 100 people (roughly half of them inebriated) trying to fire a confetti cannon at me in the dark.
At least one person could not handle their confetti cannon duties.
Since not every guest would get to shoot a confetti cannon (we can't all be winners here), I decided to use an inexpensive way for every guest to participate. Enter the ribbon wands.
We found the ribbon wand tutorial from Offbeat Bride.I found the dowel rods at Michael's (they were pre-cut), and ordered the ribbons through Paper Mart. We spray painted the dowel rods silver, and added jingle bells to a few for some festive flair. Honestly, I can't tell you how easy or hard this project was. It was a project that kept slipping to the back burner, and it ended up being so last minute that I had absolutely no part in it. However, I have so much love for my mom, my aunts, and my bridesmaids for pulling it off, because I they looked great, they definitely showed up in the pictures, and they were a huge hit with the little ones.
I loved our exit. It suited us perfectly and I can't tell you how amazing it felt to exit through a storm of confetti (but I did end up with a piece of confetti in my mouth on our way out, and I was quite concerned I would look weird to everyone as I tried to gracefully pull it out).
Here are a few things to consider when planning your exit:
1. Is it allowed at your venue?
Venues can be particular about the dramatics of your exit, particularly if it involves fire.
2. Is it within your budget?
Fireworks don't come cheap. Unless you buy them from a guy at a roadside stand in North Cackalacky. Tell him Crowbar Kate sent ya–he'll cut ya a deal.
3. How does the planning/execution fit within your timeline?
The ribbon wands were great but I know they caused some stress. If you can do it ahead of time, get on it–if not, remember that things get super hectic before the wedding goes down, so you may not have time to pull it off.
Those are my top three tips for a wedding exit, dear readers! What advice do other brides have? Do most couples decide to be divas like us and stage an exit, or did anyone out there quietly slip away?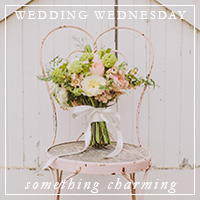 Happy Wedding Wednesday!