Did you know there are around 400,000 species of flowering plants out there in the world?
That can make choosing wedding flowers awfully overwhelming, and Pinterest may or may not help. I had literally NO idea what I wanted when I started, and it seemed like everywhere I turned the blogs were like "ALL THE PEONIES! ALL THE PEONIES IN THE WORLD!"
Seriously ladies. Let the peonies go. Unless you get married during peak peony season (which can vary, so I hope you are also a psychic), you will just end up selling your organs on the black market to make room in your budget.
I'm kidding! Maybe? Honestly, I think most girls are pretty realistic about the peony problem, but they do seem to be everywhere. Fortunately, if you'll recall, there are 400,000 species of flowers on the planet–so if you don't want to trade a kidney for a peony (HA!), you've got options. Here are some dos and don'ts I picked up while planning for my flowers:
– Do go seasonal (it can be cheaper), and don't be afraid to seek some advice from your florist on what's in and what's out.
But it's okay if not everything is in season–let your florist work their magic.
– Don't limit yourself to your "wedding colors." Just because you picked "blush and bashful" doesn't mean you everything awash in pepto bismol pink. (This is a great post from Joelle about color vs design–definitely a great read for planning your wedding!)
– Do use Pinterest for ideas, but don't get too carried away–otherwise you'll just pin anything that blooms, and then you'll be more clueless than when you started. If it captures your eye and captures your heart, pin it–if not, let it go.
My Pinterest board was filled with anemones and brunia berries. Image via SMP.
– Don't limit yourself to Pinterest–Real Simple has a great tool that helps you pick out wedding flowers, and this chart is a great visual aid.
– Do put your own personal touch on your bouquet–like a rosary, a family broach, or maybe a piece of lace/fabric from your mom's wedding day. I used an extra piece of lace from my mom's dress and used it to tie my Virginia Tech class ring to my bouquet. Whatever it is, find something meaningful to you that will put your own stamp to your flowers.
I wrapped that lace myself–can you tel?
– Don't show up with a knife to a gun fight. And by that, I mean don't show up unprepared to your meetings with your florists. Bring your favorite picture for inspiration, and if you can, bring a list of the names of flowers you want. Sometimes, florists are awesome and they just get it. Other times, florists are like parents and they just don't understand, so they need a little help.
I was very specific about my bouquet, thanks to my Type A personality.
There you have it ladies! The Power Couple Approved Guide to Picking Wedding Flowers. This guide is mostly for bouquets, but some of it can apply to arrangements and centerpieces.
As always, I'm linking up with A Charming Occasion for Wedding Wednesday. Do you ladies have any other advice for picking flowers? I would especially love to hear advice from someone who is actually a florist. Remember, sharing is caring!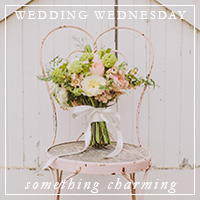 And just because I was in love with my wedding bouquet, here is one more picture:
Anemones, hydrangeas, garden roses, and brunia berries.