I decided to switch things up this week for Wedding Wednesday, and instead of reviewing details from my wedding, I thought I would offer up some advice for all the bride-to-be readers out there. I'm no expert, but from the 27 weddings where I've been a bridesmaid (just kidding, it was five), and from planning my own wedding, I've picked up a few nuggets of wisdom.
Three times a bridesmaid, never a bride? I sure showed them!
Choosing a venue is a pretty crucial first step in the wedding planning process–it will either force your hand to set a date, or it will cement the date you already have in mind. Once you have a date/venue booked, you can go ahead and get your photographer, save the dates, cake, hotel rooms, etc. However, I know this can be a daunting task, especially when you're not me and you've had your venue picked out since the time you were five years old.
I drove past it several times a week for the first 18 years of my life. Of course I picked it!
So, to help you narrow down your search, use these tricks to get started.
1. Indoor or outdoor?
Obviously, important, because sometimes venues aren't set up to handle both.
2. Get that guest list down!
I know it can be daunting to nail down your guest list early in the planning stages, but it's VERY important to have a close estimate of how many you will be expecting. You can't book an intimate, museum reception site and then invite your entire sorority. Even if you know people won't show up, it's best to play safe.
You want a packed dance floor, not an overcrowded dance floor. There's a difference.
3. Aesthetics
This may seem trivial, but if you want to gag at the sight of the place then don't even try. Yes, most places can be fixed up with the right decorations, but that will take more time and effort. However, if you fall in love with the charm of it, or if you burst with excitement over the decorating possibilities, then go for it.
Bonus when your venue already has decorations.
4. Is there a backup plan?
You've planned a speakeasy chic garden party for your wedding. Do you want that vision to be ruined by an unexpected downpour? In the words of Kevin McCallister, "I don't think so." Outdoor weddings are beautiful, but for the love of pete please make sure there is a plan in case of rain.
5. Know ya boo
And by that I mean, "know your space." Are you having the ceremony in the same location? Is there a separate area to have the reception, or will people need to take down the ceremony then set up for the reception? Many venues will have other areas that can be used for cocktail hour while the dinner tables are set up. However, keep this in mind if a. you don't want to pay for a cocktail hour, or b. there is not other space–it's just one big, blank canvas waiting for your magical touch.
6. Location, location
I recently visited a vineyard/winery that was way out in the country. It was far–and that's a lot for me to say, considering I grew up out in the country. This particular vineyard had brochures advertising their space as a wedding location, but good grief it would be a pain in the bones to get to!
I know it may seem boring, but keep in mind the logistics of your location. How far is it from your ceremony? Are there hotels that are close for out-of-town guests? Nearby airports? I'm not saying that you should never consider having your wedding on a remote mountaintop, I'm just saying that it will take additional planning. And don't act like you don't care about what your guests think; you obviously do, otherwise you would have just eloped in the first place.
Ceremony, reception, hotel–everything was within a two mile radius.
Well, my dear readers, that's all the advice I have for today on picking a venue for your wedding. What do you all think? Any other former brides out there have their own advice? I don't know it all (well, sometimes I do), so please chime in with your own expertise!
Much love,
Kate
It's a Wedding Wednesday link up! Check out A Charming Occasion and the other bloggers who are linking up to share their wedding-related posts.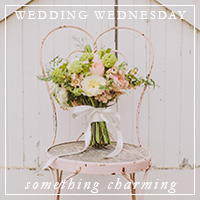 p.s. If you are in love with the pictures from our wedding, check out
SoHo Photography
! They were our wonderful photographers and I can't recommend them enough.