After last week's post about our amazing wedding video, I was having trouble coming up with a topic for this week's Wedding Wednesday post. Luckily, any time I'm suffering writer's block, I talk to my sweet husband and he always helps me come up with a brilliant idea. He suggested I write about everything I was thinking on my wedding day, and that is exactly what I'm going to do.
Keep in mind, our wedding day was almost 9 months ago, so this may not be the most accurate representation. Obviously, I was over-the-top excited the entire day to be marrying Matty T. AND getting to party with all our friends and family. In addition to those feelings, here are the things I remember going through my mind that very special day:
1. I don't want to bloat, but I'm definitely not skipping out on these raspberry cream cheese pancakes for breakfast, and I'm DEFINITELY not passing up this bacon.
My dad made breakfast for our family AND for the bridal party that morning. His pancakes are always spot-on, so no way was I going to pass that up over a little bit of bloat. Wasn't anything my spanx couldn't handle.
Would you say no?
2. I really hope Matt isn't hanging around out here and OH WOW those decorations look amazing!
After I got my hair did, I had to walk through the ballroom before going up to the suite to get ready. I think I had to go that way because I had to hand off something to my aunt from another aunt, but I was slightly panicked I would run into Matt. That did not happen, and my excitement grew tenfold when I saw how amazing the decorations looked.
Winter wonderland decorations.
3. Why is it soo hot in here? Where the hell is my mom? I NEED A PAIR OF SCISSORS! How can my fingers exude so much SWEAT?!?!?
This was my obligatory wedding day breakdown–every bride gets just one (but don't get too carried away…this is a happy occasion! Let's not argue about who killed who! Name that movie). Anyway, at this point I was completely alone in my suite. I had just opened my gift from Matt, so my emotions were already high. I needed help getting my dress on, but my mom was still at home getting ready (and, at the time, I perceived her to be taking her sweet time about it), and I figured the very least I could do was put my new earrings on (Matt's gift to me), but I could not, for the life of me, get the tag off because of my HUGE sweaty fingers. I called my MOH, Ashley, on the verge of tears, and she saved the day. She came to the rescue with a pair of scissors, helped me with the earrings, and managed to get me to calm the hell down.
Tricky little buggers.
4. I don't know where that sign is and I just don't care.
At the very last minute, as my parents and I were boarding the trolley to take us to the church, my mom realized we were missing our "Just Married" banner. It was supposed to go in the trolley, so we could attach it to the back for the return ride. My mom ran back inside to find it, but she had no luck and we were already running a bit late. I think my mom, bless her heart, was anxious I would be upset, but I just didn't care. I was about to get married to the love of my life, all other matters were trivial in comparison.
We ended up finding the sign and making use of it–this picture graced our Christmas card.
5. Let's party.
I really couldn't tell you what was on my mind during the ceremony; I know I sat there the whole time with a big, stupid grin on my face. Once it was over, I was seriously ready for some festivities. I tried to relax while taking pictures, but I seriously wanted to wrap it up and get to the party.
See this face? This is a face that wants to party.
6. I hope our dance is entertaining.
The first dance has always seemed awkward/uncomfortable to me, but once you get up there, it's not that bad! Umm, jk kidding on that one. Yes, it was very special and sweet and perfect, but it was A LOT of pressure to feel the need to make sure the dance was at least somewhat interesting for all those watching. Luckily, we had already choreographed a little routine for our song, so in the end, I think we delivered.
What did you expect, Dancing with the Stars?
7. I don't want to trip on my dress, and I need to keep up with dad, but if I'm not careful I'm going to fall and break my face.
My dad has SERIOUS dance moves. This is a known fact. I should have been ready for it, but I got thrown off because there was some confusion over our song choice, and all of a sudden we didn't have music and I felt really awkward. Then, out of nowhere, Bryan Adams starts playing, and my dad decides to make the most of this situation by twirling me like crazy all around the dance floor. I absolutely LOVED it because it was so us, but everyone said I looked scared out of mind, and it was all because my foot kept catching in my skirt and I felt positive I might end the night in the ER with a busted nose.
Dancing with Gary Eide, always an adventure
8. Matt's got to know I'm planning to smash cake in his face. I've got to catch him by surprise.
And I did, immediately after the photographers finished taking those first few pictures of the cake cutting.
Sorry Matt, my hand slipped.
9. Where's my husband?!?!
Almost had another bridal breakdown here. It was the last song of the night and Matt was nowhere to be found! And the DJ was playing a romantical song I had picked out specifically for this moment!!! Luckily, my meltdown was avoided because I couldn't help but get a little bit giddy that I got to keep referring to Matt as my "husband." And, in case you're wondering how this story ended, he reappeared just in the nick of time as the end song from Dirty Dancing started to play. He always knows how to sweep me off my feet.
Now THAT'S romantical!
10. I really wish Taco Bell was still open.
I have a love of soft tacos from Taco Bell. When we set our wedding date and booked the reception site, I was already envisioning us heading to Taco Bell late that night for a 4th meal. After all, I had a feeling we wouldn't eat much during dinner and would probably be starving by the time the night was over. Not to mention, Taco Bell was basically THE only late night fast food restaurant in town. (I know, because Matt had to take me there one time after I got embarrassingly drunk off of only two glasses of wine. We tried every other fast food place in town before we ended up with 4th meal.) Anyway, the end of this story is that the Taco Bell burned down the summer before our wedding, and it had not yet reopened. Matt and I were hungry that night, and we almost ordered pizza, but we ended up passing out from exhaustion.
Well, that pretty much takes care of the entire day. You'd be surprised at how many strange, random thoughts you can still recall from your wedding day. What I remember most, however, is how happy that day was for us, and how wonderful it felt to be supported by such great family and friends.
This week, I'm linking up with Something Charming for Wedding Wednesday. If you LOVE weddings (and if you love Kate Spade, bows, and Taylor Swift), then you should check out this blog.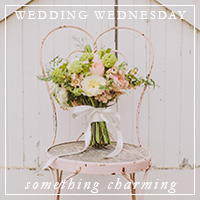 Stay tuned for Part 2 next week–you're getting a guest post from Matty T. on his wedding day thoughts!